Amazon Deal

                {
                    "id": "10437",
                    "title": "Amazon Tshirt Fest - Min.50 - 70% Off on UCB, Puma and more",
                    "description": "\nAmazon is running a discount offer on Men's Tshirt they are giving Min.50 - 70% off on UCB, Puma and more Brands Mens t-shirts from Just Rs.151. Free shipping for prime members or after order above Rs.499.\nHere how you get this offer:-\n\nClick here for offer page\nAdd in your cart\nLog in or sign up\nSelect shipping address\nMake or select the Final payment\n\nFrom the offer page:-\n\nRecommended:-\n\n\n \n\nManiac Men's Fullsleeve Round Neck All Over Printed Navy Cotton Tshirt on Min.50% Off\n\n\n\n? 1249? 374\nBuy Now\n\n\n\n\n\n\n\n \n\nSeven Rocks Regular Fit Men's Cotton T-Shirt (T16) on 57% off\n\n\n\n? 1299? 549\nBuy Now\n\n\n\n\n\n\n\n \n\nEYEBOGLER Regular Fit Men's Cotton T-Shirt on Min.50% Off\n\n\n\n? 1299? 368\nBuy Now\n\n\n\n\n\n\n\n \n\nFenoix Men's Cotton T-Shirt on Min.50% Off\n\n\n\n? 999? 398\nBuy Now\n\n\n\n\n\n\nThe festival of Holi is here. Shopping is an essential ritual of the festival. Shop for gifts, colors, sweets, Pichkaris, costumes, and more with\u00a0Amazon Holi Sale 2019\u00a0to make your shopping a budget-friendly affair.\u00a0\n\n",
                    "thumbnail": "153490_szdfasdv.JPG",
                    "code": "",
                    "perma": "amazon-tshirt-fest-min50-70-off-on-ucb-puma-and-more",
                    "store_perma": "amazon",
                    "url": "/go.php?coupon_id=10437",
                    "store_id": "101"
                }
            
Amazon deal • Shared 4 days ago by dailydeals • Expires in 6 days
Amazon Tshirt Fest - Min.50 - 70% Off on UCB, Puma and more
Amazon is running a discount offer on Men's Tshirt they are giving Min.50 - 70% off on UCB, Puma and more Brands Mens t-shirts from Just Rs.151. Free shipping for prime members or after order above Rs.499.
Here how you get this offer:-
Add in your cart
Log in or sign up
Select shipping address
Make or select the Final payment
From the offer page:-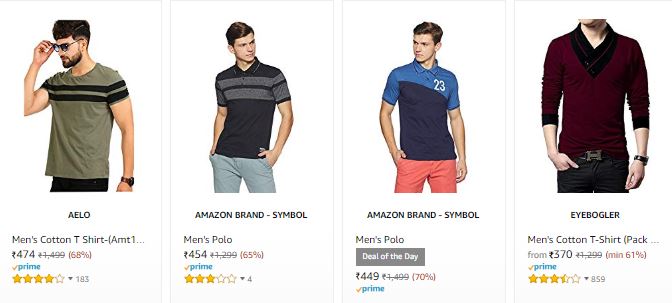 Recommended:-
The festival of Holi is here. Shopping is an essential ritual of the festival. Shop for gifts, colors, sweets, Pichkaris, costumes, and more with Amazon Holi Sale 2019 to make your shopping a budget-friendly affair. 
comments powered by

Disqus