Amazon Deal

                {
                    "id": "11401",
                    "title": "blackberrys Men's Formal Shirt At Min 70% Off",
                    "description": "\nAmazon is Running An Amazing Offer Where You Can Get\u00a0blackberrys Men's Printed Slim Fit Formal Shirt At Min 70% Off Starting From Rs.598\u00a0 And Get Free Shipping For Prime Users.ndia's leading men's fashion brand Blackberrys menswear brings a multitude of wardrobe solutions for the fashion enthusiasts. Meticulously designed for the progressive men, the collection captures diverse styles for every occasion, including formal office wear.\nHow To Get This Deal??\n\nClick Here For Offer Page\nAdd Product To Your Cart\nLogin\/Register\nChoose Shipping Address\nPay Using Any Suitable Method.\n\nProduct Recommendation:\n\n\u00a0\n",
                    "thumbnail": "157083_assa.jpg",
                    "code": "",
                    "perma": "blackberrys-mens-formal-shirt-at-min-70-off",
                    "store_perma": "amazon",
                    "url": "/go.php?coupon_id=11401",
                    "store_id": "101"
                }
            
Amazon deal • Shared 6 days ago by dailydeals • Expires in 4 days
blackberrys Men's Formal Shirt At Min 70% Off
Amazon is Running An Amazing Offer Where You Can Get blackberrys Men's Printed Slim Fit Formal Shirt At Min 70% Off Starting From Rs.598  And Get Free Shipping For Prime Users.ndia's leading men's fashion brand Blackberrys menswear brings a multitude of wardrobe solutions for the fashion enthusiasts. Meticulously designed for the progressive men, the collection captures diverse styles for every occasion, including formal office wear.
How To Get This Deal??
Add Product To Your Cart
Login/Register
Choose Shipping Address
Pay Using Any Suitable Method.
Product Recommendation: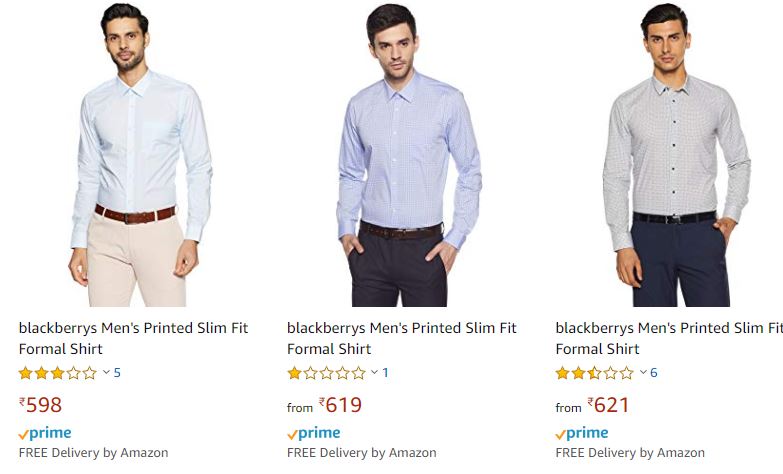 comments powered by

Disqus