Amazon Deal

                {
                    "id": "12573",
                    "title": "Bounty Minis Coconut Milk Chocolate 427.5G at Rs. 500 + Free Shipping",
                    "description": "\nAmazon is running an offer on Sweet, Chocolate, and Gums where They are giving Flat 50% off on\u00a0Bounty Minis Coconut Milk Chocolate 427.5G at Rs. 500. Free shipping for all users During this Discount offer.\u00a0Here, you\u2019ll find everything that you are looking for, be it a pack of assorted chocolates to gift a loved one, a box of mint for your travel bag or some lollipops for your child\u2019s birthday party.\n\nExtra 15% Instant Discount with SBI Debit and Credit Cards\u00a0\n\nHere How You Place The Order:-\n\nClick here for offer page\nAdd in your cart\nLog in or sign up\nSelect Shipping Address\nMake or select the final payment\n\nProduct Highlights:-\n\nMoist tender coconut covered in thick milk chocolate.\nBag full of delicious Bounty bars in a mini format. Share them with all your friends or family - there's plenty to go round .\nIngredients :sugar, desiccated coconut (21%), glucose syrup, cocoa butter, cocoa mass, skimmed milk powder, emulsifiers (soya lecithin, mono-and diglycerides of fatty acids), lactose, milk fat, whey powder (from milk), humectant (glycerol), salt, natural vanilla extract.\n\nPrice Check:- on Flipkart\n\nMore Recommended:-\n\n\n\n46% off on Bounty Coconut Miniatures, 220g at Rs. 374\n38% off on Hershey's Kisses Milk Chocolate, 340g at Rs. 620\nFlat 56% off on Nutty World Prunchies Velvet- Choco Orange Almonds 175 g, Tin at Rs. 199\n\n\n",
                    "thumbnail": "160323_sdfghj.jpg",
                    "code": "",
                    "perma": "bounty-minis-coconut-milk-chocolate-4275g-at-rs-500-free-shipping",
                    "store_perma": "amazon",
                    "url": "/go.php?coupon_id=12573",
                    "store_id": "101"
                }
            
Amazon deal • Shared 7 days ago by dailydeals • Expires in 4 days
Bounty Minis Coconut Milk Chocolate 427.5G at Rs. 500 + Free Shipping
Amazon is running an offer on Sweet, Chocolate, and Gums where They are giving Flat 50% off on Bounty Minis Coconut Milk Chocolate 427.5G at Rs. 500. Free shipping for all users During this Discount offer. Here, you'll find everything that you are looking for, be it a pack of assorted chocolates to gift a loved one, a box of mint for your travel bag or some lollipops for your child's birthday party.
Extra 15% Instant Discount with SBI Debit and Credit Cards 
Here How You Place The Order:-
Add in your cart
Log in or sign up
Select Shipping Address
Make or select the final payment
Product Highlights:-
Moist tender coconut covered in thick milk chocolate.
Bag full of delicious Bounty bars in a mini format. Share them with all your friends or family - there's plenty to go round .
Ingredients :sugar, desiccated coconut (21%), glucose syrup, cocoa butter, cocoa mass, skimmed milk powder, emulsifiers (soya lecithin, mono-and diglycerides of fatty acids), lactose, milk fat, whey powder (from milk), humectant (glycerol), salt, natural vanilla extract.
Price Check:- on Flipkart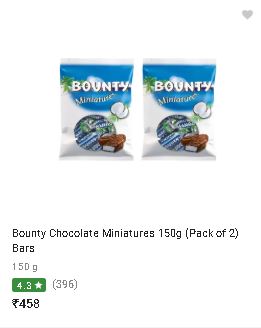 More Recommended:-
comments powered by

Disqus