Amazon Deal

                {
                    "id": "11374",
                    "title": "Domestic Flight Booking Up to Rs.2000 Cashback [Upcoming]",
                    "description": "\nThe limited period promotional offer, namely Flights on Amazon \u2013 Jun 25-Jul 14 Offer ('Offer') is provided to you by Amazon Pay (India) Private Limited ('APIPL') and is made available on the website www.amazon.in and the corresponding mobile site and mobile application (collectively, 'Amazon.in') operated by Amazon Seller Services Private Limited ('ASSPL'). This Offer is in respect of the bookings of flight \/ airline tickets on Amazon.in.\n\nOffer Validation:-\n\nThis Offer is valid from June 25, 2019 to July 14, 2019 or any other date as extended by APIPL in its sole discretion, without prior notice and without any liability ('Offer Period\u201d)\nDuring the Offer Period, any customer who successfully undertakes the following steps:\u00a0\n(a) books a flight \/ airline ticket on Amazon.in ('Booking');\u00a0\n(b) applies the applicable coupon code on the 'Flight Details' page; and\u00a0\n(c) makes payment for the Booking transaction using any payment method available on Amazon.in,\u00a0\nwill be eligible to receive a cashback amount as per these Offer Terms.\nThe amount of cashback that a customer will be entitled to will depend on the transaction value of the Booking undertaken by the customer. The relevant details concerning the transaction value criteria and corresponding cashback for such transaction of Booking is provided in the table below. Coupon code for the highest applicable cashback offer will get auto applied during the booking.\u00a0\n\n",
                    "thumbnail": "156961_3.jpg",
                    "code": "",
                    "perma": "domestic-flight-booking-up-to-rs2000-cashback-upcoming",
                    "store_perma": "amazon",
                    "url": "/go.php?coupon_id=11374",
                    "store_id": "101"
                }
            
Amazon deal • Shared 7 days ago by dailydeals • Expires in 3 days
Domestic Flight Booking Up to Rs.2000 Cashback [Upcoming]
The limited period promotional offer, namely Flights on Amazon – Jun 25-Jul 14 Offer ('Offer') is provided to you by Amazon Pay (India) Private Limited ('APIPL') and is made available on the website www.amazon.in and the corresponding mobile site and mobile application (collectively, 'Amazon.in') operated by Amazon Seller Services Private Limited ('ASSPL'). This Offer is in respect of the bookings of flight / airline tickets on Amazon.in.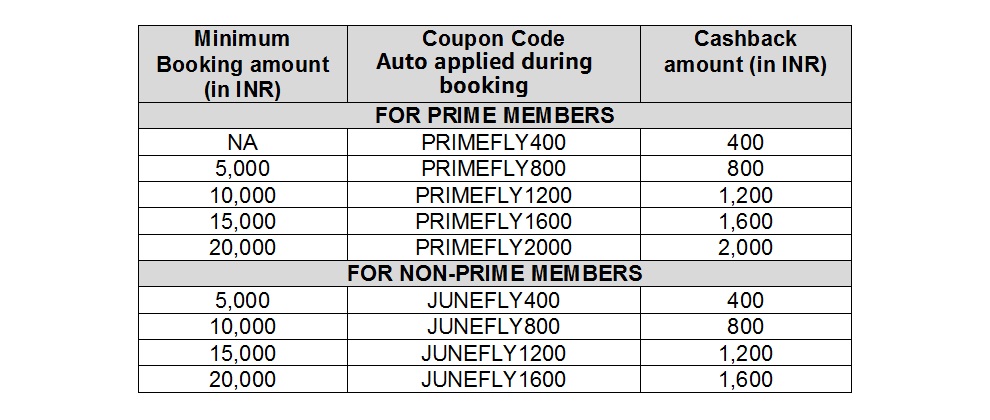 Offer Validation:-
This Offer is valid from June 25, 2019 to July 14, 2019 or any other date as extended by APIPL in its sole discretion, without prior notice and without any liability ('Offer Period")
During the Offer Period, any customer who successfully undertakes the following steps: 
(a) books a flight / airline ticket on Amazon.in ('Booking'); 
(b) applies the applicable coupon code on the 'Flight Details' page; and 
(c) makes payment for the Booking transaction using any payment method available on Amazon.in, 
will be eligible to receive a cashback amount as per these Offer Terms.
The amount of cashback that a customer will be entitled to will depend on the transaction value of the Booking undertaken by the customer. The relevant details concerning the transaction value criteria and corresponding cashback for such transaction of Booking is provided in the table below. Coupon code for the highest applicable cashback offer will get auto applied during the booking. 
comments powered by

Disqus