Amazon Deal

                {
                    "id": "10724",
                    "title": "Flat 97% Off: Graco Aire3 Click Connect Stroller at LOOT Price!!",
                    "description": "\n#Loot #PriceError\nAmazon is running an offer where you can Grab\u00a0Flat 97% Off on Graco Aire3 Click Connect Stroller with Free Shipping, worth Rs.50197 at Just Rs.1561.\u00a0This Is Comfortable For The Baby And Safe, It Can Be Helpful For Mothers To Carry Kids. Hurry Buy!!\n\nNote: Discount Is So High & It may be a Price Error, So Order may get Cancelled!!\n\nHow to get this Stroller:\n\nVisit here for the Page\nAdd Product to the cart\nLogin\/Sign Up & Make the final payment\n\nMore About Product:\n\nGraco Official Website is selling for $179.99 [ Approx. Rs. 12419 ] + Shipping Extra to India. [ CLICK here ]\nUbuy Is selling this stroller\u00a0at Rs.15029 [ CLICK here ]\n\nAbout Graco:\nGraco's Aire3\u2122 Click Connect\u2122 Stroller is designed to make it extra-easy for you to explore with baby. The sleek, lightweight stroller weighs less than 21 lbs., so it's easy to lift. and carry, and the 3-wheel design is easy to maneuver. It folds with one hand and automatically stands for simple storage. The multi-position, flat-reclining seat is comfortable as your child grows. A parent's tray with zippered storage and two cup holders, and an extra-large storage basket makes strolling more convenient for mom. It accepts all Graco SnugRide Click Connect Infant Car Seats with a secure, one-step attachment.\n\u00a0\n",
                    "thumbnail": "154435_yjkmj,jkj.jpg",
                    "code": "",
                    "perma": "flat-97-off-graco-aire3-click-connect-stroller-at-loot-price",
                    "store_perma": "amazon",
                    "url": "/go.php?coupon_id=10724",
                    "store_id": "101"
                }
            
Amazon deal • Shared 7 days ago by dailydeals • Expires in 4 days
Flat 97% Off: Graco Aire3 Click Connect Stroller at LOOT Price!!
#Loot #PriceError
Amazon is running an offer where you can Grab Flat 97% Off on Graco Aire3 Click Connect Stroller with Free Shipping, worth Rs.50197 at Just Rs.1561. This Is Comfortable For The Baby And Safe, It Can Be Helpful For Mothers To Carry Kids. Hurry Buy!!
Note: Discount Is So High & It may be a Price Error, So Order may get Cancelled!!
How to get this Stroller:
Add Product to the cart
Login/Sign Up & Make the final payment
More About Product:
Graco Official Website is selling for $179.99 [ Approx. Rs. 12419 ] + Shipping Extra to India. [ CLICK here ]
Ubuy Is selling this stroller at Rs.15029 [ CLICK here ]
About Graco:
Graco's Aire3™ Click Connect™ Stroller is designed to make it extra-easy for you to explore with baby. The sleek, lightweight stroller weighs less than 21 lbs., so it's easy to lift. and carry, and the 3-wheel design is easy to maneuver. It folds with one hand and automatically stands for simple storage. The multi-position, flat-reclining seat is comfortable as your child grows. A parent's tray with zippered storage and two cup holders, and an extra-large storage basket makes strolling more convenient for mom. It accepts all Graco SnugRide Click Connect Infant Car Seats with a secure, one-step attachment.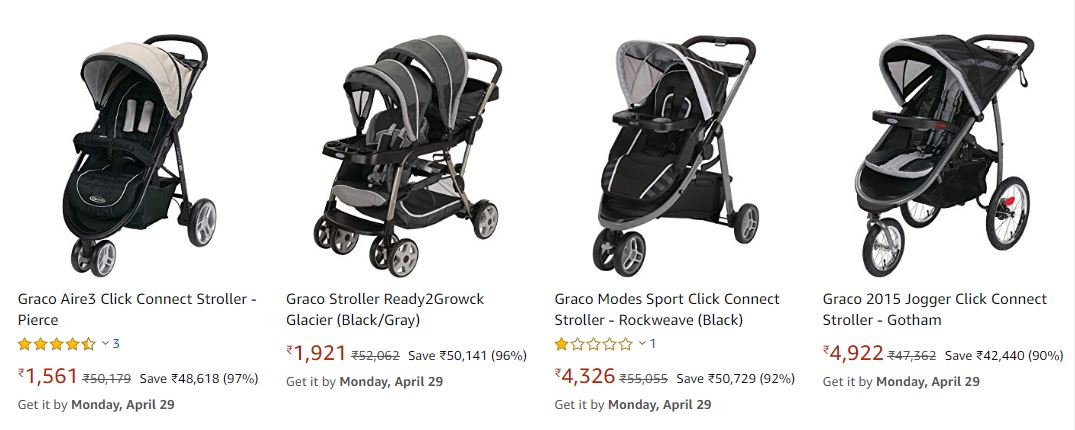 comments powered by

Disqus