Paytm Mall Deal

                {
                    "id": "11392",
                    "title": "Get Three Month Gaana+ Subscription For Free",
                    "description": "\nGaana is a commercial music streaming service providing free and licensed music. It was launched in April 2010 by Times Internet and provides both Indian and international music content. The entire Indian music catalogue is available to users world-wide, but only users in India have access to international music. Gaana features music from 21 languages including the major languages such as Hindi, English, Bengali, Kannada, Marathi, Punjabi, Tamil, Telugu, Malayalam and other Indian regional languages.\n\u00a0\nHow to\u00a0 Redeem:-\n\nClick here for offer page\nPick For Free\nVisit the Gaana app to redeem the offer.\nClick on 'Coupons' through the settings icon (from an Android device)\nEnter the code at the time of checkout.\n\nOffer Validation:-\n\u00a0The customer will get 3 months Gaana Plus subscription for free.\r\n2. Valid at Gaana app.\r\n3. Valid till 31st December 2019.\r\n4. The offer is not valid for an existing Gaana Plus member.\r\n5. The voucher is valid for once per user.\r\n6. The offer is not transferable.\r\n7. Users who have not undergone Paytm KYC will not receive cashback in their wallets.\n\u00a0\n",
                    "thumbnail": "154267_sdsdfg.jpg",
                    "code": "",
                    "perma": "get-three-month-gaana-subscription-for-free",
                    "store_perma": "paytmmall",
                    "url": "/go.php?coupon_id=11392",
                    "store_id": "1969"
                }
            
Paytm Mall deal • Shared 1 week ago by dailydeals • Expires in 2 days
Get Three Month Gaana+ Subscription For Free
Gaana is a commercial music streaming service providing free and licensed music. It was launched in April 2010 by Times Internet and provides both Indian and international music content. The entire Indian music catalogue is available to users world-wide, but only users in India have access to international music. Gaana features music from 21 languages including the major languages such as Hindi, English, Bengali, Kannada, Marathi, Punjabi, Tamil, Telugu, Malayalam and other Indian regional languages.
How to  Redeem:-
Pick For Free
Visit the Gaana app to redeem the offer.
Click on 'Coupons' through the settings icon (from an Android device)
Enter the code at the time of checkout.
Offer Validation:-
 The customer will get 3 months Gaana Plus subscription for free.
2. Valid at Gaana app.
3. Valid till 31st December 2019.
4. The offer is not valid for an existing Gaana Plus member.
5. The voucher is valid for once per user.
6. The offer is not transferable.
7. Users who have not undergone Paytm KYC will not receive cashback in their wallets.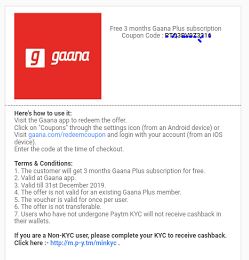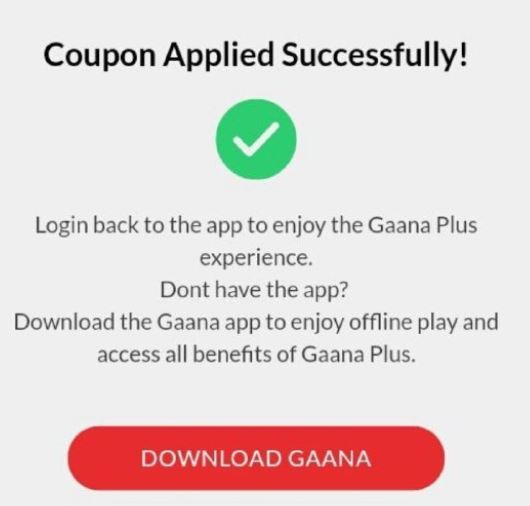 comments powered by

Disqus