Amazon Deal

                {
                    "id": "13037",
                    "title": "Great Sennheiser Sale - Up to 50% off From Rs. 599 [ More Offer ]",
                    "description": "\nAmazon is running a discount\u00a0on Audio Devices\u00a0products They are giving\u00a0Up to 50% off From Rs. 599. The perfect gadget that lets you enjoy an uncompromising music listening session. Keeping in mind the wearing comfort of the listeners.\nHere How You Place The Order:-\n\nClick here for offer page\nAdd in your cart\nLog in or sign up\nSelect Shipping Address\nMake or select the final payment\n\nRecommended:-\n\n\n \n\nSennheiser CX 180 Street II In-Ear Headphone (Black), without Mic. at Rs. 599\n\n\n\n? 1090? 599\nShop Now\n\n\n\n\n\n\n\n \n\n74% Claimed - Sennheiser 4.5 BT SE ANC + Sennheiser CX 1.0 Earphone at Rs. 7490\n\n\n\n? 17980? 7490\nShop Now\n\n\u00a0\n\n\n\n\nTop Offers:-\n\n\nShop By Category:-\n\u00a0\u00a0\u00a0\n\nShop for all kind of Musical Instruments such as\u00a0Guitars\u00a0(Bass,\u00a0Acoustic, Classic & more\u00a0& Gear,\u00a0Piano,\u00a0Keyboards & Synthesizers,\u00a0Drums & Percussion, different kinds of\u00a0String Instruments,\u00a0Wind Instruments,\u00a0Indian Instruments,\u00a0Violins,\u00a0Cajon\u2019s,\u00a0Ukulele\u00a0of different kinds across various regions and supporting Musical Instrument\u00a0Accessories\u00a0for various instruments like\u00a0Synthesizer & Sampler,\u00a0Studio Monitors,\u00a0Microphones,\u00a0Portable Recording Devices,\u00a0DJ & VJ Equipment,\u00a0Karaoke Equipment,\u00a0Power Amplifiers (PA), Live Sound & Stage,\u00a0Recording & Professional Audio Products.\n\n",
                    "thumbnail": "161760_sdfgh.jpg",
                    "code": "",
                    "perma": "great-sennheiser-sale-up-to-50-off-from-rs-599-more-offer-",
                    "store_perma": "amazon",
                    "url": "/go.php?coupon_id=13037",
                    "store_id": "101"
                }
            
Amazon deal • Shared 1 week ago by dailydeals • Expires in 2 days
Great Sennheiser Sale - Up to 50% off From Rs. 599 [ More Offer ]
Amazon is running a discount on Audio Devices products They are giving Up to 50% off From Rs. 599. The perfect gadget that lets you enjoy an uncompromising music listening session. Keeping in mind the wearing comfort of the listeners.
Here How You Place The Order:-
Add in your cart

Log in or sign up

Select Shipping Address

Make or select the final payment
Recommended:-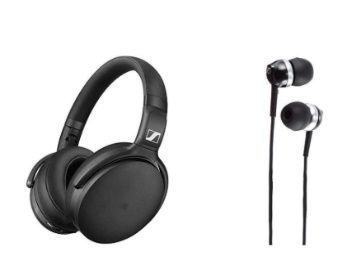 74% Claimed - Sennheiser 4.5 BT SE ANC + Sennheiser CX 1.0 Earphone at Rs. 7490

Top Offers:-
Shop By Category:-
Shop for all kind of Musical Instruments such as Guitars (Bass, Acoustic, Classic & more & Gear, Piano, Keyboards & Synthesizers, Drums & Percussion, different kinds of String Instruments, Wind Instruments, Indian Instruments, Violins, Cajon's, Ukulele of different kinds across various regions and supporting Musical Instrument Accessories for various instruments like Synthesizer & Sampler, Studio Monitors, Microphones, Portable Recording Devices, DJ & VJ Equipment, Karaoke Equipment, Power Amplifiers (PA), Live Sound & Stage, Recording & Professional Audio Products.
comments powered by

Disqus