Amazon Deal

                {
                    "id": "13339",
                    "title": "Lowest : Ariel Complete Detergent Powder 4Kg At Rs.580 [ Max. 8 Units ]",
                    "description": "\nAmazon is Running An Amazing Offer Where You Can Grab Ariel Complete Detergent Washing Powder - 4Kg Value Pack Flat 48% Off At Just Rs.580 And\u00a0Free delivery above Rs.599,\u00a0Minimum order value of Rs.200.\u00a0Ariel Complete is uniquely designed to deliver outstanding results when used in a semi automatic machines as well as when used as a handwash detergent. The new Brightguard technology keeps your clothes bright wash after wash.\u00a0\nHow To Get This Offer??\n\nClick here for offer page\nAdd in your cart\nLog in or Sign up\nEnter Shipping Details\nMake The Final Payment\n\nSpecial Offer:\n\nBuy now & pay next month at 0% interest or pay in EMIs with Amazon Pay Later. Instant credit upto ?20,000.\u00a0\nGet FLAT 5% BACK with\u00a0Amazon Pay ICICI Bank Credit card\u00a0for Prime members. Flat 3% BACK for non-Prime members. No minimum order value. No upper limit on cashback.\u00a0\nGet GST invoice and save up to 28% on business purchases.\u00a0\nGet ?50 cashback, pay with Amazon Pay UPI. Valid on minimum order of ?250. Valid once per customer.\n\nProduct Details:\n\nAriel Complete provides tough stain removal for a bright clean in 1 wash\nNew Brightguard Technology in Ariel Complete ensures that clothes remain bright even wash after wash\nAriel is the no. 1 brand recommended by washing machine manufacturers like LG, Whirlpool, Panasonic, etc.\nAriel Complete provides long lasting fragrance and deep down cleaning to deliver an impeccable clean and laundry experience\nBest results behind correct usage and dosage - 2 scoops for normal loads, and 3 scoops for heavy loads.\n\nPrice Comparisons:\n\nFlipkart is Selling At Rs.1050\n\nProduct You May Like:\n\n\n \n\nFortune Super Dubar Basmati Rice, 5 Kg At Rs.495\n\n\n\n? 740? 495\nShop Now\n\n\n\n\n\n\n\n \n\nSantoor PureGlo Glycerine Soap with Almond Oil and Glycerine, 125g (Pack of 6) At Rs.226\n\n\n\n? 378? 226\nShop Now\n\n\n\n\n\n\u00a0\n",
                    "thumbnail": "163548_8544.jfif",
                    "code": "",
                    "perma": "lowest-ariel-complete-detergent-powder-4kg-at-rs580-max-8-units-",
                    "store_perma": "amazon",
                    "url": "/go.php?coupon_id=13339",
                    "store_id": "101"
                }
            
Amazon deal • Shared 1 week ago by dailydeals • Expires in 2 days
Lowest : Ariel Complete Detergent Powder 4Kg At Rs.580 [ Max. 8 Units ]
Amazon is Running An Amazing Offer Where You Can Grab Ariel Complete Detergent Washing Powder - 4Kg Value Pack Flat 48% Off At Just Rs.580 And Free delivery above Rs.599, Minimum order value of Rs.200. Ariel Complete is uniquely designed to deliver outstanding results when used in a semi automatic machines as well as when used as a handwash detergent. The new Brightguard technology keeps your clothes bright wash after wash. 
How To Get This Offer??
Add in your cart

Log in or Sign up

Enter Shipping Details

Make The Final Payment
Special Offer:
Buy now & pay next month at 0% interest or pay in EMIs with Amazon Pay Later. Instant credit upto ?20,000. 

Get FLAT 5% BACK with 

Amazon Pay ICICI Bank Credit card

 for Prime members. Flat 3% BACK for non-Prime members. No minimum order value. No upper limit on cashback. 

Get GST invoice and save up to 28% on business purchases. 

Get ?50 cashback, pay with Amazon Pay UPI. Valid on minimum order of ?250. Valid once per customer.
Product Details:
Ariel Complete provides tough stain removal for a bright clean in 1 wash

New Brightguard Technology in Ariel Complete ensures that clothes remain bright even wash after wash

Ariel is the no. 1 brand recommended by washing machine manufacturers like LG, Whirlpool, Panasonic, etc.

Ariel Complete provides long lasting fragrance and deep down cleaning to deliver an impeccable clean and laundry experience

Best results behind correct usage and dosage - 2 scoops for normal loads, and 3 scoops for heavy loads.
Price Comparisons:
Flipkart is Selling At Rs.1050
Product You May Like: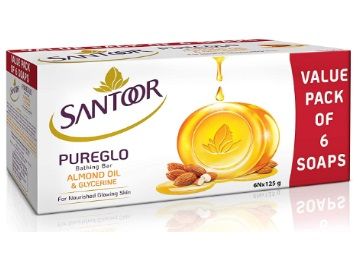 Santoor PureGlo Glycerine Soap with Almond Oil and Glycerine, 125g (Pack of 6) At Rs.226

comments powered by

Disqus