Amazon Deal

                {
                    "id": "11344",
                    "title": "Working Again: FREE Rs.55 In Amazon Pay On Send Money",
                    "description": "\nJust Transfer RS.250 Or More To Any UPI Address And Get Rs.55 Cashback Free. Offer Valid On 1st Transaction In July.\u00a0Send Money To Friends & Family & Get Cashback.\u00a0Get cashback on 5 transactions. Offer is working multiple time To and work On Latest Amazon App [ Updated ]. LOOT Now!!\n\nNote: Offer Is Still Working, Some Users getting Cashback Instantly, Otherwise it will be Credited with 24 Hours In Your Amazon Pay Wallet.\n\nSteps To avail\u00a0FREE Rs. 55 In Amazon Pay:\n\nVisit here To Go To Amazon Send Money Page [ Open Amazon App ]\nClick On Send Money & Pay Rs. 250 Or More\nGet Rs. 55 Cashback In Amazon Pay Valid on First Transaction\n\nOFFER DETAILS:\n\nSend Rs.250 or more (a) Prime customers can get Rs.100-Rs.2000 back (b) Others can get Rs.50-Rs.2000 back\nOffer is valid only for \u201cmoney transfer\u201d transaction using Amazon Pay UPI\nCashback will be credited with 2 business days\n\u201cSend Money\u201d feature is available only on Amazon Android App (version 18.5 or above)\nOffer Duration:\u00a0Jul 5, 2019, to Jul 31, 2019\nEligibility: Customers who have ever created their Amazon Pay UPI ID before Jun 19th (whether it is for money transfers or shopping on Amazon or not used till date), will not be eligible for this Offer.\n\nOffer Screenshot:\n\n",
                    "thumbnail": "156880_ryuyuii.jpg",
                    "code": "",
                    "perma": "working-again-free-rs55-in-amazon-pay-on-send-money",
                    "store_perma": "amazon",
                    "url": "/go.php?coupon_id=11344",
                    "store_id": "101"
                }
            
Amazon deal • Shared 1 week ago by dailydeals • Expires in 4 hours
Working Again: FREE Rs.55 In Amazon Pay On Send Money
Just Transfer RS.250 Or More To Any UPI Address And Get Rs.55 Cashback Free. Offer Valid On 1st Transaction In July. Send Money To Friends & Family & Get Cashback. Get cashback on 5 transactions. Offer is working multiple time To and work On Latest Amazon App [ Updated ]. LOOT Now!!
Note: Offer Is Still Working, Some Users getting Cashback Instantly, Otherwise it will be Credited with 24 Hours In Your Amazon Pay Wallet.
Steps To avail FREE Rs. 55 In Amazon Pay:
OFFER DETAILS:
Send Rs.250 or more (a) Prime customers can get Rs.100-Rs.2000 back (b) Others can get Rs.50-Rs.2000 back
Offer is valid only for "money transfer" transaction using Amazon Pay UPI
Cashback will be credited with 2 business days
"Send Money" feature is available only on Amazon Android App (version 18.5 or above)
Offer Duration: Jul 5, 2019, to Jul 31, 2019
Eligibility: Customers who have ever created their Amazon Pay UPI ID before Jun 19th (whether it is for money transfers or shopping on Amazon or not used till date), will not be eligible for this Offer.
Offer Screenshot: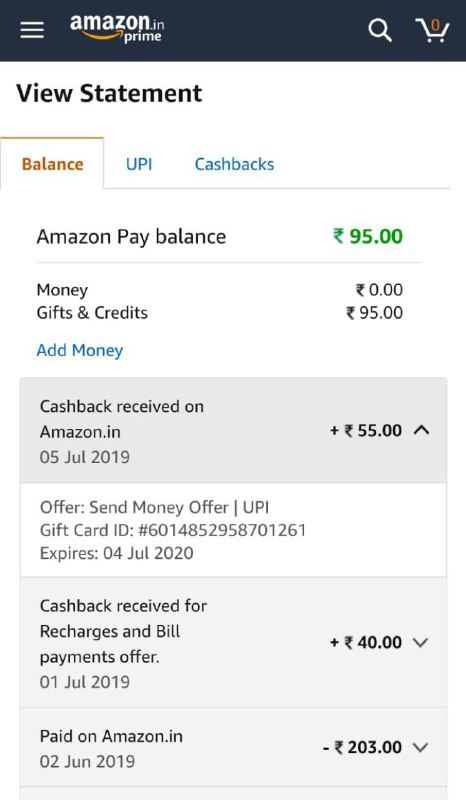 comments powered by

Disqus